The Southeast (Unitarian Universalist) Winter Institute Mid-Florida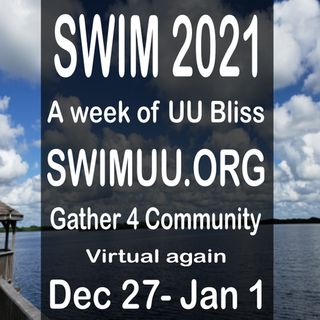 Workshops:
Concerts:
Special Events:
Campfire with Pat & Dave on December 29 & December 31

New Year's Eve Party with D.J. Wendy on December 31
Registration Information:
Click on Registration to access google form.

You can pay the $20 registration fee, contribute a donation to SWIM or pay for an Auction item via our PayPal account. Answers to questions can be obtained by emailing the Director or President. Information about the Auction including appropriate items can be obtained by emailing the Auction coordinator. (Please note our email system is currently down and therefore may take some time before we can respond.)

Auction will be held on Thursday, November 30th during dinner (starting 6:00 PM).

For 2021, SWIM will once again be an On-line only experience with a registration fee of $20 which includes all workshops. Updated information will be provided here as it develops. (Updated as of 11/30/2021 and note the web page is currently being modified.)
About SWIM:
Looking for an environment with a diverse group of friendly and fascinating folks? Then SWIM was meant for you! SWIM is an intentional, inter-generational community of Unitarian Universalists and friends, including awesome people like YOU! We normally gather in South Florida December 26 through January 1, but met virtually in 2020. Traditionally it's fun in the sun, friendship, off site trips, workshops, worship, singing, dancing, volunteering, SWIM has it all! A great time to get away and relax after a busy holiday season. We'd love to have you with us, whether for your first time, or your 40th!
Pictures/Video from the past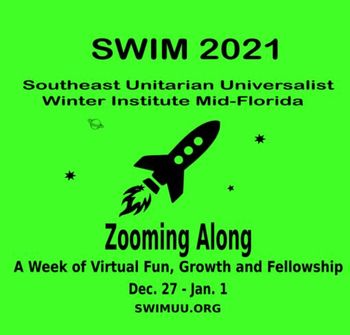 T-shirts with the above logo are available from Amazon in a variety of shapes, sizes and colors. (Not all colors are available for all sizes and shapes.) Note that in previous years we expected to make $1 per T-shirt sold but that isn't the case for T-shirts purchased from Amazon.