SWIM COSTS
We are happy to announce that there will be NO INCREASE in the cost of SWIM!
$490 for adults ages 18 and over
$328 for teens 13-17
$216 for children ages 3-12
FREE for infants and children under 3 years of age
Sleeping offsite deduct $100
Eating offsite deduct $100
One Day & Night including lodging and 3 meals: $85
One Day only: $10 plus meals
There will be a reduction of $40.00 per person for all paying tent campers and those staying in RVs. In order to qualify for the reduction, you must be camped in either tent or RV for the entire week.
Meals:
Breakfast $9.00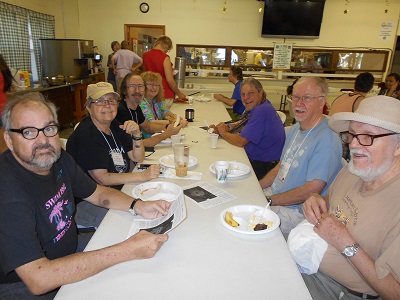 Lunch $11.00
Dinner $15.00
New Year's Eve Party only: $55.00 per Adult (Includes dinner, party, and overnight camp fee. You must me the guest of a SWIM participant.)
UU Ministers: We would love to have you share in our special community. So we are inviting you for one day as our guest. We are also extending a 50% discount for any time at SWIM beyond a single day.
Image Gallery